School Therapist & Educator Staffing
You're passionate about your job helping students with special needs achieve academic and social success—and so are we! Whether you're an SLP, PT/OT, SPED professional, school counselor, teacher, or paraprofessional, we recognize that your work improves academic achievement, promotes positive behavior, supports diverse learners and strengthens family-school relationships. It's our purpose to help you and your students succeed.
WHY AEQUOR?
The Perks
Not only are there perks at the school where you're hired, but Aequor takes care of you, too! A few reasons you'll want us working for you:
Dedicated Recruiters
Your partner & guide for navigating the career journey that's right for you.
Self-Service Technology
Aequor Talent Portal is your all-in-one career companion from job search to on-the-job.
21+ Years of Experience
Long-standing relationships with hundreds of public & charter schools nationwide.
Advocacy & Support
24/7 service, high-touch relationships, mentorship & clinical support.
School Jobs Pay & Benefits
Learn more about school therapist & education specialist pay & benefits. Fast and accurate, we handle all the details while you're on assignment, so you can make your students your priority.
Benefits
Reimbursements
Taxes
Bonus Pay
Benefits
Day One Insurance Benefits
DAY ONE Insurance
Medical
Dental
Vision
Life
Accident & short-term disability
Other Benefits
Paid Time Off
401k after first year
Credentialing assistance
Relocation assistance
Travel contracts
Monthly discipline-specific webinars with school-based professionals
Reimbursements
Reimbursements
Depending on the location of your assignment, you may be eligible for additional reimbursements. Contact a recruiter to learn more.
Travel
Meals/Housing
CEUs
Classroom materials
Housing Resources
Taxes
Tax Benefits
Tax laws vary depending upon where you live & where you work, so we recommend consulting with a tax professional.
References
Bonus Pay
Potential Bonuses
Depending on the location of your assignment, you may be eligible these bonuses. Contact a recruiter to learn more.
Sign-on bonuses
Completion bonuses
Referral bonuses up to $1,500 each hire
Become an Aequor Schools Traveler
Our Hiring Process
1.

ONE-CLICK APPLY

Complete your Aequor Talent Portal profile, find & apply for your next job with one click.
2.

CONNECT

Skip the line & connect with a recruiter—your advocate & guide in qualifying for submission to hiring managers.
3.

QUALIFY

Work with your recruiter on the skills checklist, licensing & certification docs & submit to openings you're interested in.
4.

INTERVIEW

Meet with the hiring managers of top facilities & make sure this is the right job for you.
5.

HIRED

Receive a job offer with our congratulations! Accept the offer & start your career with Aequor.
6.

WELCOME

to the Aequor Family! Do what you love & love what you do.
Get the App
Aequor Talent Portal – Your All-in-One Traveler Companion
Aequor's self-service technology connects you with your next gig and keeps track of all the details, so you can focus on your students and doing what you love.
Sign Up
Search Jobs & Apply
Get Paid for Referrals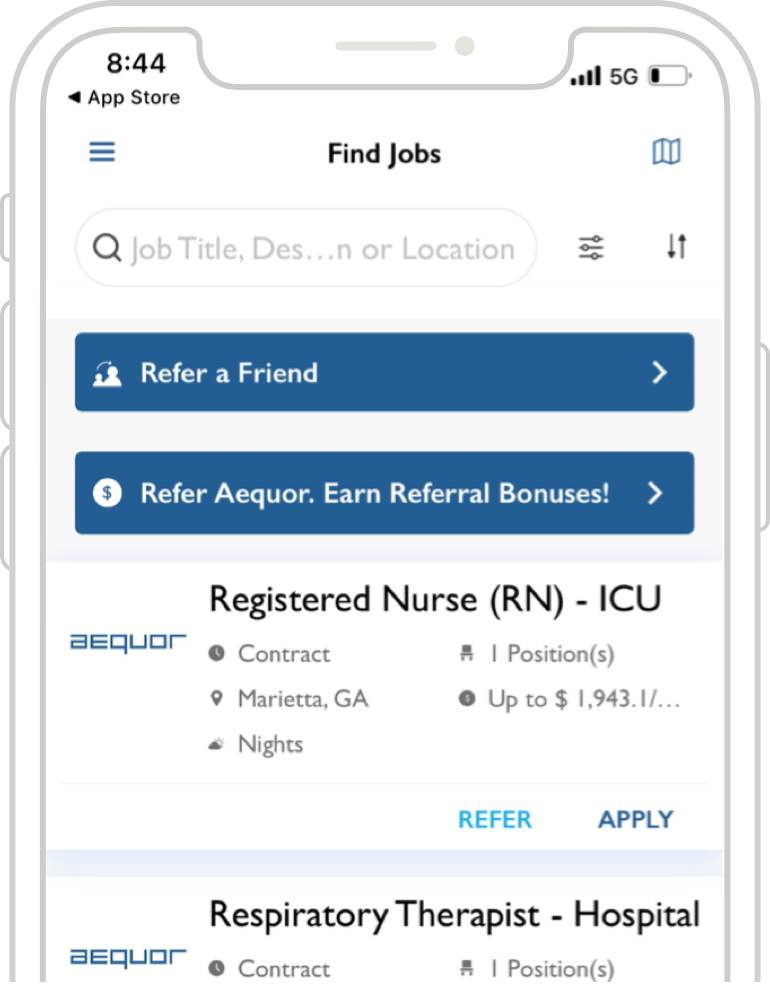 FAQs Answered
What is a school-based traveler?
When you become a school-based professional, you have an exciting opportunity to travel all over the country and make a difference in communities outside of your own.
What education jobs do you staff?
THERAPY: SLP, OT, PT, Teletherapy
TEACHING: SPED, TVI, TDHH, GenEd
BEHAVIORAL HEALTH: Psychologist, BCBA, Social Worker, RBT, BI
SUPPORT SERVICES JOBS: Nurse, ASL Interpreter, O&M, ED DIAG
What does it take to work for Aequor in schools?
1+ years school-based experience
Active license or certification (depending on profession)
Proof of U.S. citizenship
Must be 50+ miles from permanent residence to qualify for stipends and reimbursements
What can I expect from a travel assignment with Aequor Education?
You will be rewarded with competitive compensation, monthly living stipends, state license reimbursements and daily meal allowances, in addition to having a positive impact on those who need it most—our kiddos!
How long are Aequor's school assignments?
Contract assignment vary in length but most are typically set up for one entire school year (180+ days or 36-40 weeks).
Why School Providers Choose Aequor
Thank you so much! I really mean it... other nurses tell me horror stories with their agencies… it has been such a blessing working with you. So it's just truly been such a great fit and I want to say THANK YOU SO MUCH!! 👍🏽🙏🏽🙌🏽
I love working with this team. Aequor have consistently found me the best paying contracts in locations I actually want to go to. They have had my back since I started my travel career and I always find myself reaching out to them after trying other recruiters. They are one of the best in this industry and I can't thank them enough for making this travel life easier for me.
Working for Aequor has been an absolute delight! I have worked for several companies and this is by far the best. Aequor has excellent recruiters, so helpful and easy to communicate with. They really goes above and beyond! So glad I found this company. Great contract structures and high pay, can't beat that!