Discover Your Next Local Nursing Job
With Aequor, you have the freedom to live life on your terms—all while making a real impact where you're needed most. Our per diem, local contract & permanent job opportunities can help restore your work-life balance, take vacations, and never have to choose between work and family. Set your own schedule, work in multiple facilities on a temporary or permanent basis, and enjoy the stability of long-term employment with Aequor.
The Perks
Why Trust Aequor to Find Your Local Nurse Job
Not only are there perks at the facility where you're hired, but Aequor takes care of you, too! A few reasons you'll want us working for you:
Dedicated Recruiters
Your partner & guide for navigating the career journey that's right for you.
Self-Service Technology
Aequor Talent Portal is your all-in-one RN companion from job search to on-the-job.
High Pay & Great Benefits
Earn more locally, plus stipends, reimbursements & day-one insurance benefits.
Advocacy & Support
24/7 team support & our clinical liaison is your advocate on assignment.
Local Nurse Pay & Benefits
Learn more about our pay & benefits packages for local nurses. Fast & accurate, we handle all the details while you're on assignment, so you can make patients your priority.
Pay
Benefits
Stipends
Per Diem
Pay
Competitive Pay Packages
Based upon your specialty, location and other benefits
Weekly direct deposit
Sick time/PTO (some facilities)
Potential Bonuses
Sign-on/Completion Bonuses
Referral Bonuses up to $1,500 each hire
Resources
Benefits
Full-Time Benefits
DAY ONE Insurance
Medical
Dental
Vision
Life
Accident & short-term disability
Other Benefits
401k after first year
Credentialing assistance
CEU/Tuition reimbursement
Professional development opportunities
Support & advocacy on assignment
Resources
Stipends
Stipends & Reimbursements
Depending on the location of your assignment, you may be eligible to receive part of your compensation in tax-free stipends for housing & meals. Contact a recruiter to learn more.
Meals
Housing
Travel/Relocation
Scrubs and other necessities
CEU/Licenses/Certifications
Resources
Per Diem
Per Diem Nursing
Cure nurse burnout, supplement your income, restore your work-life balance, take vacations, never have to choose between work and family. Read more about the benefits of per diem or PRN nursing.
Requirements
2 years of experience in your specialty
Must reside within 1.5-hour commute of assignment facility (shift confirmation could happen as quickly as 1.5-2 hours before start time)
Minimum availability of 4 days per month
Per Diem Scheduling
Become an Aequor Local Nurse
Our Hiring Process
1.

ONE-CLICK APPLY

Complete your Aequor Talent Portal profile, find & apply for your next job with one click.
2.

CONNECT

Skip the line & connect with a recruiter—your advocate & guide in qualifying for submission to hiring managers.
3.

QUALIFY

Work with your recruiter on the skills checklist, licensing & certification docs & submit to openings you're interested in.
4.

INTERVIEW

Meet with the hiring managers of top facilities & make sure this is the right job for you.
5.

HIRED

Receive a job offer with our congratulations! Accept the offer & start your career with Aequor.
6.

WELCOME

to the Aequor Family! Do what you love & love what you do.
Get the Aequor Talent Portal App
Local nursing shifts, right in your pocket.
Get instant access to thousands of flexible PRN and Per Diem nurse jobs that fit your ideal schedule. Aequor's self-service technology connects you with your next gig and keeps track of all the details, so you can focus on your patients and doing what you love.
Sign Up
Search Jobs & Apply
Get Paid for Referrals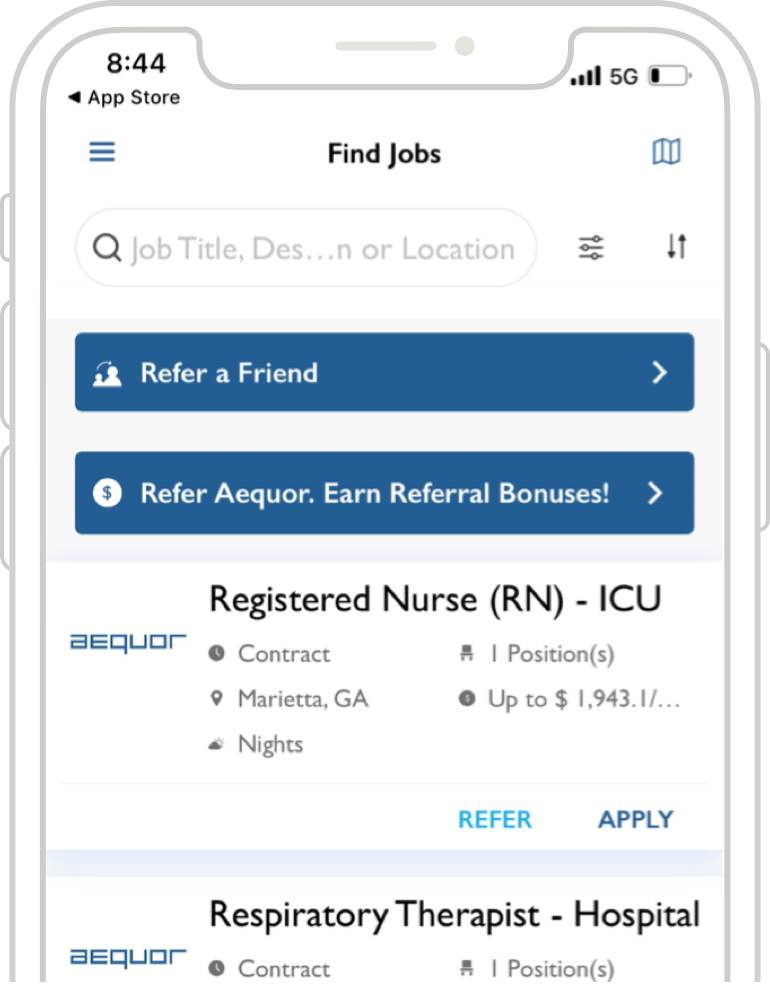 Why Local Nurses Choose Aequor
My Aequor recruiter's altruistic listening ear (she will always make time for you), and encouraging demeanor, it feels like being guided by a caring family member in addition to a competent healthcare liaison.
I didn't know an agency that genuinely cares exists until I got employed by Aequor. With current assignment challenges, I am most assured that I am not alone—they have my back, they truly care!
I want to thank Aequor and Ebony for giving me the opportunity to join this community and to display my capabilities for success. I couldn't imagine a better recruiter by my side.
FAQs Answered
What's the difference between local nursing, PRN or per diem nursing, and travel nursing?
Local nursing refers to nursing positions where nurses work in their local geographic area, typically within commuting distance of their residence. Local nurses typically have a permanent or long-term position at a specific facility and may work regular shifts, such as full-time or part-time, and may have a more stable schedule.
Per diem or PRN nursing refers to a type of employment arrangement on an as-needed basis, typically on a temporary or part-time basis. "Per diem" is a Latin term that translates to "per day." Per diem or PRN nurses are called in to work, sometimes within an hour's notice up to a few days notice, when there is a need for additional staffing due to factors such as increased patient volumes, vacations, or sick leaves. Per diem or PRN nursing can offer flexibility to nurses who may prefer to have control over their work schedule and have the ability to choose when and where they work. Compensation for per diem or PRN nursing positions is typically based on an hourly or daily rate, and may vary depending on factors such as location, experience, and demand for nursing services.
Travel nursing involves nurses taking temporary assignments in different locations, often outside of their local area or home state. Travel nurses may work for a few weeks to several months at a particular facility before moving on to a new location or assignment. Travel nursing offers the opportunity to explore different healthcare settings, gain diverse experiences, and often provides higher pay rates and additional benefits compared to local nursing positions. Learn more about Aequor's travel nurse opportunities.
In summary, the key differences between local, PRN/per diem, and travel nursing are the location and duration of the assignments. Local nursing involves permanent or long-term positions in the local area, PRN or per diem nursing is on an as-needed basis on short notice, while travel nursing entails short-term assignments in different locations.
What are the benefits of per diem or PRN nursing?
As a local per diem or PRN (pro re nata) nurse, you have the flexibility to choose the shifts you work and take time off when you need it. Here are some other benefits of being a local per diem/PRN nurse:
Variety of work environments: As a local per diem nurse, you can work in a variety of settings, including hospitals, clinics, nursing homes, and other healthcare facilities. This provides you with the opportunity to gain experience in different areas of nursing and expand your knowledge and skills.
Competitive pay: Per diem nurses typically earn higher pay rates than staff nurses, making it a good financial option for those who want to supplement their income.
Flexibility: As a local per diem nurse, you have the flexibility to work when you want, which can be particularly beneficial for those with other commitments or who want to take time off to travel.
Professional development: Working as a per diem nurse gives you the opportunity to gain experience in different areas of nursing, which can help you advance your career and increase your marketability as a nurse.
No long-term commitment: As a local per diem nurse, you have the freedom to take on as many or as few shifts as you want, without the commitment of a full-time position. This allows you to work when it's convenient for you and avoid burnout.
Overall, being a local per diem or PRN nurse offers many benefits, including flexibility, competitive pay, professional development, and the opportunity to work in a variety of healthcare settings.
What job-related expenses does Aequor reimburse?
We will reimburse you for CEUs, licenses, certifications, scrubs and other necessities.
How soon before a shift will I receive notice that I'm needed?
Typically, we are able to notify nurses within 2 days or as far out as a month before the start of the shift. Occasionally, we receive a same-day request that may need fulfillment in as little as 1.5 hours.
What are the requirements and how do I maintain my eligibility for Aequor's insurance benefits?
Once you are hired, your insurance benefits begin on the first day of work and you must work at least 36 hours per week to remain eligible.
Do I have to work full-time (at least 36 hrs/wk) to be employed by Aequor?
No. Many PRN nurses have full- or part-time jobs elsewhere and pick up extra shifts with us when they're available. As long as you work at least four shifts per month for Aequor, you will still be considered an employee, although you may not be eligible for insurance benefits. But our local, per diem and PRN employees can also take travel contracts (usually 13 weeks) to maintain their insurance benefits.
What certifications do I need to have to work local or PRN for Aequor?
You must have a current AHA CPR card and the certifications required for your specialty (e.g., ACLS, PALS, NRP, and MAB).