WHY AEQUOR?
The Perks
Not only are there perks at the facility where you're hired, but Aequor takes care of you, too! A few reasons you'll want us working for you:
Dedicated Recruiters
Your partner & guide for navigating the career journey that's right for you.
Self-Service Technology
From job search to on-the-job, Aequor Talent Portal is your all-in-one traveler companion.
High Pay & Great Benefits
Earn more as a traveler, plus stipends, tax breaks & day one insurance benefits.
Advocacy & Support
24/7 team support & our Director of Nursing advocates for you on assignment.
Travel Nurse Pay & Benefits
Learn more about travel nurse pay and benefits packages. Fast and accurate, we handle all the details while you're on assignment, so you can make your patients your priority.
Pay
Benefits
Stipends
Tax Breaks
Pay
Competitive Pay Packages
Based upon your specialty, location and other benefits
Weekly direct deposit
Sick days/PTO (some facilities)
Potential Bonuses
Completion/Attendance Bonuses
Extra Time Compensation
Referral Bonuses up to $1,500 each hire
Resources
Benefits
Benefits
DAY ONE Insurance
Medical
Dental
Vision
Life
Accident & short-term disability
Other Benefits
401k after first year
Credentialing assistance
CEU/Tuition reimbursement
Professional development opportunities
Resources
Stipends
Stipends & Reimbursements
Depending on the location of your assignment, you may be eligible to receive part of your compensation in tax-free stipends for housing & meals. Contact a recruiter to learn more.
Resources
Tax Breaks
Tax Breaks
Tax laws vary depending upon where you live & where you work, so we recommend consulting with a tax professional.
Resources
Benefits & Advantages of Travel Nursing
Overall, being a travel nurse offers a unique and rewarding career path with numerous benefits and advantages, including travel adventures, professional growth, higher earning potential, flexibility, exposure to diverse clinical settings, opportunities for networking, learning, personal growth and fulfillment, and enhanced work-life balance.
Adventure & Personal Fulfillment
Travel nurses have the flexibility to choose assignments in different cities and states, which allows them to mix work and play while experiencing diverse cultures and environments. Exploring new places, meeting new people, and helping patients in different communities can be personally rewarding and provide a sense of purpose and satisfaction, which are all excellent remedies for nurse burnout.
Professional Growth
Travel nursing can provide opportunities for professional growth and development. By working in different healthcare facilities with diverse patient populations and various levels of care, a travel nurse can expand their skill set and knowledge base. This can boost their resume and make them more marketable in future career pursuits.
Networking & Professional Connections
Working with different healthcare professionals allows travel nurses to build a professional network, which can open doors to future career opportunities. Building connections with fellow nurses, physicians, and other healthcare staff can also provide a support system while working in new and unfamiliar environments.
Higher Earning Potential
Travel nurses often earn higher pay rates compared to permanent staff nurses. Along with competitive salaries, travel nurses may receive stipends for meals and housing, travel reimbursements, and bonuses, all of which can increase their overall earning potential.
Flexibility & Independence
Travel nursing offers flexibility in terms of assignment duration, scheduling, and location. Travel nurses can have more control over their work-life balance and enjoy the freedom to take breaks between assignments or take time off to pursue personal interests.
Exposure to Diverse Clinical Settings
Travel nurses have the opportunity to work in various healthcare settings, such as hospitals, clinics, long-term care facilities, and specialty units. This allows them to gain exposure to diverse clinical settings and develop a well-rounded skill set.
Personal Growth
Travel nursing can foster personal growth by helping nurses develop resilience, adaptability, and independence. It can also promote personal self-discovery and cultural awareness by immersing nurses in different communities and allowing them to learn from diverse patient populations.
Learning Opportunities
Adapting to different healthcare systems, policies, and procedures can broaden a travel nurse's knowledge and experience, making them more versatile and flexible as healthcare professionals.
Enhanced Work-Life Balance
Travel nurses can choose assignments with schedules that suit their preferences. This can allow them to spend quality time with family and friends or pursue personal interests, leading to a better work-life balance and a more fulfilling lifestyle.
Become an Aequor Travel Nurse
Our Hiring Process
1.

ONE-CLICK APPLY

Complete your Aequor Talent Portal profile, find & apply for your next job with one click.
2.

CONNECT

Skip the line & connect with a recruiter—your advocate & guide in qualifying for submission to hiring managers.
3.

QUALIFY

Work with your recruiter on the skills checklist, licensing & certification docs & submit to openings you're interested in.
4.

INTERVIEW

Meet with the hiring managers of top facilities & make sure this is the right job for you.
5.

HIRED

Receive a job offer with our congratulations! Accept the offer & start your career with Aequor.
6.

WELCOME

to the Aequor Family! Do what you love & love what you do.
30+ Travel Nursing Specialties
Get the Aequor Talent Portal App
Travel nursing assignments, right in your pocket.
Get instant access to thousands of travel nurse jobs that fit your lifestyle and location. Aequor's self-service technology connects you with your next gig and keeps track of all the details, so you can focus on your patients and doing what you love.
Sign Up
Search Jobs & Apply
Get Paid For Referrals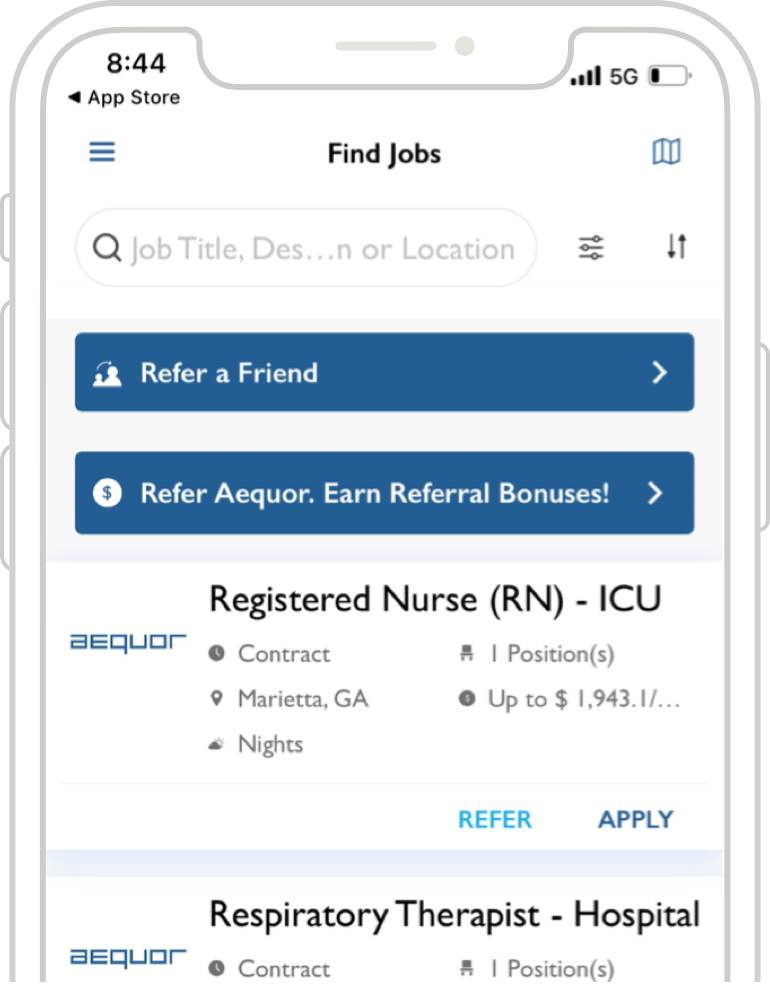 Why Travel Nurses Choose Aequor
As a first-time traveler, Aequor was very helpful in finding exactly what I wanted. My recruiter went above and beyond... She was so personal and checked in on me throughout the week.
Aequor & my recruiter, Leanne, made my first travel assignment a breeze. Great company to work with!
I think Aequor must be a wonderful company by the way I've been taken care of. I feel so thankful that I was able to find a job with such an amazing recruiter!!!
FAQs Answered
What are the requirements to become a travel nurse?
Minimum of 2 years' experience as an RN with recent specialty experience in the last 12 months
Active, unencumbered license or certification
Minimum of two professional supervisor references
How can I expedite my nursing license in all states?
You can apply for a "compact license" that is honored in 40 states and jurisdictions under the Nurse Licensure Compact (NLC). Your permanent residence must be in a compact state, otherwise you'll need to apply for a license in the state where you wish to work. For more information about state licensing and certification requirements, visit our Licensing Map that includes links and details by discipline.
Resources:
Nurse Licensure Guidance – Tool for state-specific nurse licensure guidance
Nurse Licensure Compact (NLC) –NLC member states and links to states' nursing regulatory boards
Nursys® – Look up and verify your RN license status
What are the eligibility requirements for travel stipends? 
Travel more than 50 miles from permanent residence where you file taxes
Duplicate expenses (paying for housing in two places)
Work in one location no more than a year.
What's the best way to find travel nurse housing?
There are multiple ways travelers secure housing. One of the most important considerations is to do your research before committing to a lease. Learn more from Nurse Ann Marie in our article, "Housing from a Veteran's Perspective." Other resources: Furnished Finder or The Gypsy Nurse Facebook Housing Group
What about traveling with my family & pets?
The traveler life works for many families—whether you're just bringing a partner or the whole package—kids, dogs, cats and the hamster—it's your housing that will be the determining factor in who you decide to bring along. Find pet & family-friendly options through Furnished Finder or The Gypsy Nurse Facebook Housing Group.