Oct 07, 2023
Advancing Your Nursing Career through Certifications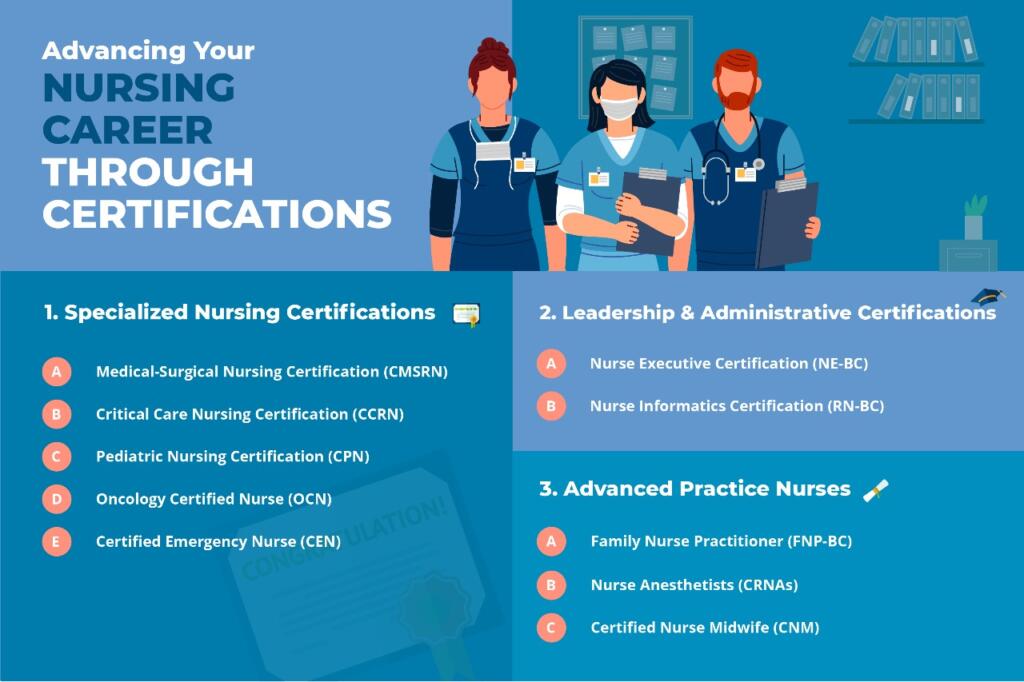 Travel nurses have a rewarding profession, with many opportunities for growth and specialization. By obtaining various certifications, travel nurses are able to advance their professional knowledge and expand their job opportunities. Nursing certifications not only enhance a nurse's skill set but also open doors to higher paying positions and increased responsibilities. Here are some of the certifications nurses can pursue to take their careers to the next level.
Specialized Nursing Certifications
Nurses who are certified in specialized areas of nursing excel in specific healthcare niches. These showcase a nurse's proficiency and expertise in specific areas of practice. Examples include:
●       Medical-Surgical Nursing Certification (CMSRN): This certification demonstrates a nurse's competence in medical-surgical nursing, 
which involves caring for patients with a wide range of medical conditions.
●       Critical Care Nursing Certification (CCRN): For nurses working in intensive care units (ICUs), this certification validates their knowledge and skills in caring for critically ill patients.
●       Pediatric Nursing Certification (CPN): Pediatric nurses can pursue this certification to showcase their specialized knowledge in caring for infants, children, and adolescents.
●       Oncology Certified Nurse (OCN): Oncology nurses with this certification are equipped to provide comprehensive care to patients undergoing cancer treatment.
●       Certified Emergency Nurse (CEN): This certification allows emergency room nurses to showcase their expertise in managing critical situations, trauma cases, and emergencies.
Leadership and Administrative Certifications
Nurses interested in taking on leadership roles or transitioning to administrative positions can benefit from these certifications:
●       Nurse Executive Certification (NE-BC): This certification prepares nurses for leadership positions, such as nurse manager, director or executive, by emphasizing organizational and management skills.
●       Nurse Informatics Certification (RN-BC): For nurses interested in the intersection of healthcare and technology, this certification equips them with the knowledge to manage and optimize healthcare information systems.
Advanced Practice Nurses
Advanced practice nurses (APNs) have expanded roles and responsibilities, often working independently, and collaborating with other healthcare professionals.
Additional education and degrees are required for APNs. Some of these advanced practice nurses include:
●       Family Nurse Practitioner (FNP-BC): FNPs provide primary healthcare services to patients of all ages. This allows them to diagnose, treat, and manage various medical conditions.
●       Certified Nurse Anesthetists (CRNAs): CRNAs are advanced practice registered nurses who administer anesthesia and other medications. They monitor patients who are receiving and recovering from anesthesia.
●       Certified Nurse Midwife (CNM): CNMs provide care to women during pregnancy, childbirth, and postpartum, as well as general gynecological services. This is ideal for APNs interested in women's health.
For more information about advanced practice nursing, visit the American Association of Nurse Practitioners.
Certifications offer travel nurses the chance to advance their careers, increase their earning potential, and specialize in areas that align with their passions. Certified travel nurses will always play a crucial role in providing high-quality patient care within the healthcare industry.
If you're embarking on your career in travel nursing or looking for your next contract, visit the Aequor Talent Portal to browse our open positions and get in touch with one of our helpful travel nursing recruiters today!
Share
Get the Latest Updates
You'll be the first to know when there's something new.