Feb 21, 2023
Healthcare Travelers Traveling with Pets—It Can Be Done!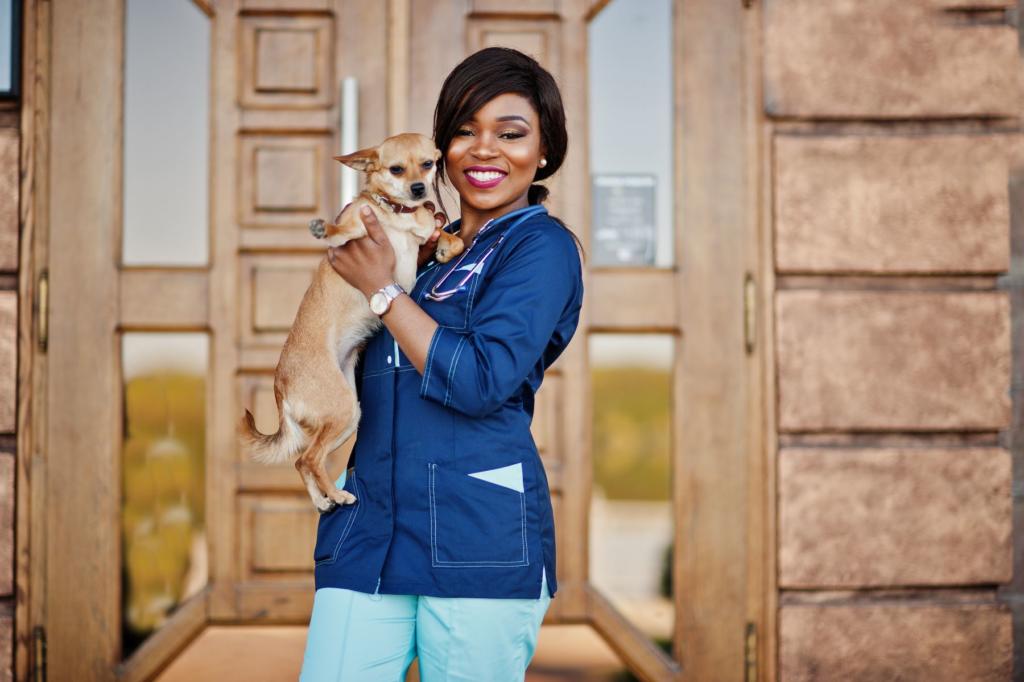 Your fur babies are an important part of our lives, so of course healthcare travelers want to bring pets along on new travel assignments! Here are some helpful ideas for travel nurses and healthcare travelers to consider when traveling with pets.
Before the Journey
Visit your vet for yearly exams. Make sure your pet is up to date on vaccines, and let your vet know your plans to travel. Your veterinarian may give you advice specific to your pet!
When you're packing, make sure to bring your pet's medical records, updated tags and any extra medication if they take any. For more packing tips, read our article, What to Pack for A Travel Assignment.
Read Yelp or Google reviews about vet clinics in the area where you'll be traveling before hitting the road, just in case your pet needs medical care.
Make sure your landlord or property manager knows you're bringing a pet. The last thing you want is to be turned away when you arrive. Also take into consideration that you might have to pay a pet deposit on rental properties when bringing your furry friends.
Consider getting a microchip for your dog or cat if they don't already have one. This could be a lifesaver if your pet likes to explore new places and gets lost.
Road Trip!
The Humane Society recommends that in the car, pets should travel in carriers. If this is not an option for you, the next safest spot would be in the backseat. Find more information on traveling with pets on the Humane Society website.
Factor in time to stop for your pet when you are planning your trip. Look up parks to visit or rest areas along your route.
If you have a long drive ahead of you, find hotels that are pet friendly along your route. Petswelcome.com is a great resource to find hotels that will accommodate your four-legged travel companions.
Air Travel with Pets
If you'll be making the trip to your next assignment by airplane, be sure to check the airline's requirements and policies before buying your tickets. Most airlines require a health certificate issued by your vet within 10 days of traveling. Airlines may also have size and safety requirements for pet carriers, which means you might need to get a new one, so make sure your animal is familiar with it before flying.
Rather than a large meal before flying the friendly skies, it's better to offer a small one or a snack a few hours before the trip to reduce the risk of motion sickness, and make sure your pet has access to water throughout the trip.
Get to the airport early—like way early. You probably won't be checking in at the self-service kiosk with your furry companion, so schedule in extra time for all the necessary rigamarole, as well as time for your pet to stretch their legs and relieve themselves before boarding.
We Have Arrived!
Set out your pet's comfort items from home. Animals can get anxious in new spaces, so bringing their favorite toy or blanket may help them feel more at home.
If you'll be working long shifts, you may need to find someone to check in on your critters while you're gone. Apps like Rover can help connect you with pet care providers in your area. Read up on some Useful Apps for Travel Nurses & Allied Travelers.
Plan to get to your destination a day or two before starting your new job to help your pet get accustomed to their new surroundings. Show them where their food is, take them on walks—around the block or around the house. You want to make the transition as easy as possible for them!
Pets are so special, and it is a unique experience to be able to show them new places as a travel healthcare professional. The most important thing to your pet is being able to be with you! If you and your fur baby are ready to look for your next travel assignment, start your job search at Aequor and get connected with a recruiter today.
Share
Get the Latest Updates
You'll be the first to know when there's something new.