Oct 10, 2022
The Inside Scoop on Housing from a Veteran Traveler's Perspective – Part 1: Cost of Living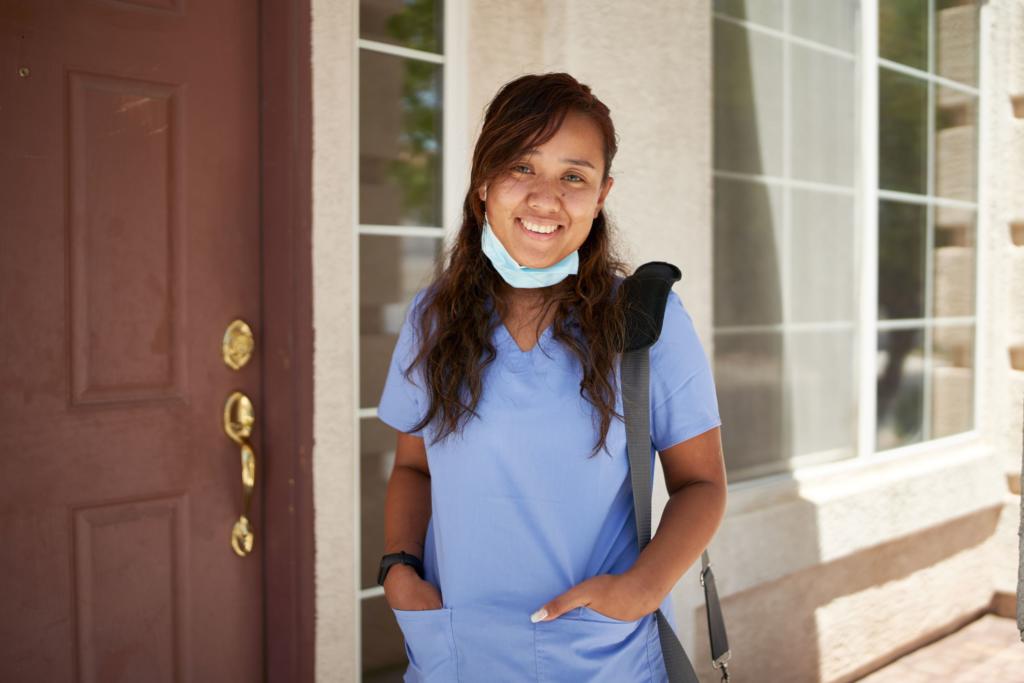 This article series, The Inside Scoop on Housing from a Veteran Traveler's Perspective, is intended to help travelers find short-term, affordable housing while on assignment.
In Part 1: Cost of Living, we cover some important prerequisites for your career as a traveler, as well as considerations for cost of living at your new location, and how to find affordable temporary housing.
In Part 2: Research, Nurse Ann Marie discusses the process of finding the right temporary housing for your travel assignment.
Part 3 of this series (coming soon) will give the inside scoop on the next steps for securing short-term housing for your upcoming travel assignment.
Nurse Ann Marie has been nursing for 37 years and as a traveler for the last 5 years. In her mid-50s with RN experience in pediatrics, the ER, OR, ICU and recovery rooms—not to mention raising three phenomenal kids and staying married to the same man for 38 years—she's "been there and done that" a lot throughout her life. She's had her share of learning the hard way, especially when it comes to travel nursing. That's why Nurse Ann Marie loves to share her experiences and lessons learned with other travelers, beginners and those in the just-thinking-about-it stage.
Understand Your Why
When someone asks her advice about travel nursing, the first thing she needs to know is why do you want to start traveling. Some people do it to make more money so they can build a nest egg for the future. Others want to travel for the sake of traveling—they love adventure and want to experience different locations and meet new people all over the country. Nurse Ann Marie started her traveler career so she could explore cities where she and her husband might like to retire and earn extra money for retirement (but also to fund her addiction to funky vintage jewelry).
Musts & Deal-Breakers
When you're clear on your goals the next thing to do is determine are your must-haves, deal-breakers and what you're willing to compromise on when it comes to your travel career. Figure out how much money you need to save from each paycheck to meet your financial goals, then you'll have a better idea of how much is left for your bills and living expenses while on assignment. This will help you find affordable temporary housing as a traveler by factoring in the cost of living at your destination.
Slush Fund Side Note
Nurse Ann Marie advises to always have a slush fund of 1-2 months' living expenses (rent, bills, food, gas, etc.) when you get started for a few reasons: It's not cheap to relocate (even though your staffing agency will reimburse you, it can take a few weeks); most landlords want a deposit and first month's rent before you move in (and therefore, before you start your assignment). Maintain that slush fund throughout your traveler tenure because you never know—sometimes contracts get cancelled or end early, or the gap between assignments is longer than expected.
Housing Before Contract
One of the first things she tells a newbie or prospective travel nurse is to get started on your housing search before signing the contract. Even though this may sound a little like putting the cart before the horse, you'll thank her when you follow her advice. Why do it this way?
Make sure you understand the cost of living in the location of your assignment, so you don't end up losing money rather than saving. Too many green travelers get so googly-eyed by the $4-5K/week pay in California that they sign the contract before researching housing in the area.
Example: RN travel job in San Francisco, CA pays $4K/week before taxes. Furnished Finder advertises a private room and bath in a shared house or apt/condo starting at $1,200/month. Want an entire unit to yourself? Starts at $2,200/month for a studio. Brought your partner or family? $3,200 for a three-bedroom. That's just rent. What about food, gas, healthcare? According to PayScale, the cost of living in San Fran is 94% higher than the national average.
Cost of Living Resources:
Numbeo is a crowd-sourced global database of quality of life data, including cost of living,  housing indicators, perceived crime rates, and other statistics.
PayScale's Cost of Living Calculator is a great comparison tool to find out how much you need to make in a new location in order to maintain your current standard of living.
GasBuddy has several tools (price charts, maps, demand insights, etc.) for seeing the current gas prices in the US and Canada.
I know you're poised on the edge of your seat to learn more about Nurse Ann Marie's strategy for finding housing you can live with, so read Part 2 of The Inside Scoop on Housing from a Veteran Traveler's Perspective: Figuring Out Where.
Share
Get the Latest Updates
You'll be the first to know when there's something new.