Apr 20, 2023
How to Become a Travel Nurse after Nursing School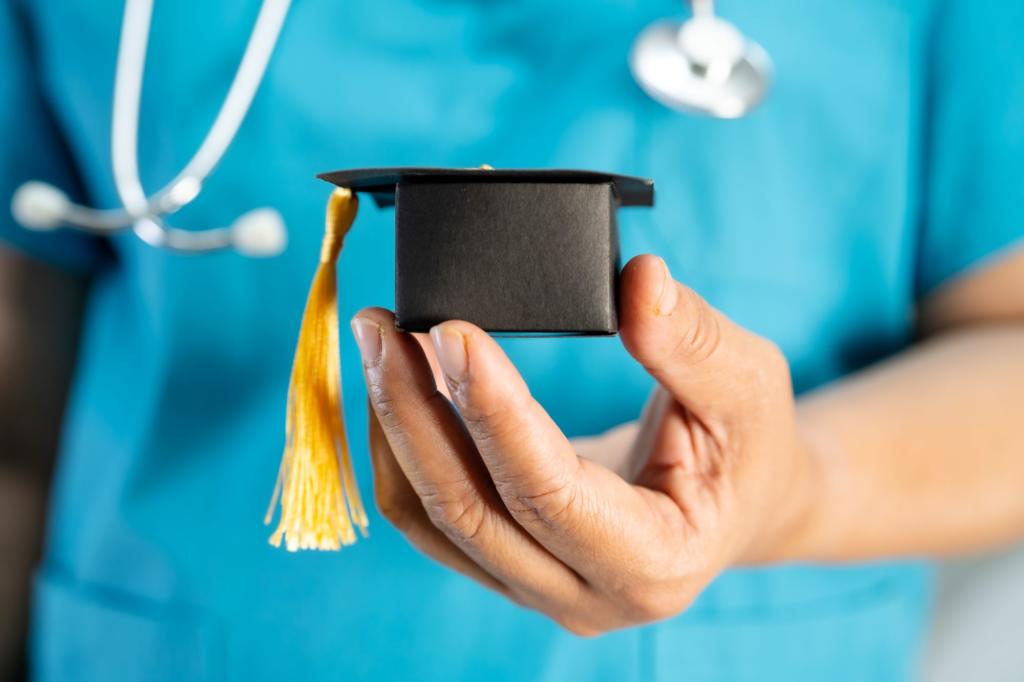 Congratulations! Now that you've graduated from nursing school, it's time to begin your career. Travel nursing may seem like the right option for you if you love a life filled with adventure and are intrigued by earning a higher salary than staff nurses. If you're interested in becoming a travel nurse after graduation, here are some tips to help you get started.
Get two years of experience in your chosen specialty.
This may not be what you want to hear, but it's the most important step! Nursing school has prepared you to be a nurse, but gaining on-the-job experience as a new nurse will be immensely valuable. As a travel nurse, a facility wants you to walk on to the job being confident in your skills, and you want to be sure that you can provide the best patient care in any setting. Since you'll only be there for a short period of time, you won't receive much training at each facility where you're assigned. This is why it's so important that nurses have at least two years of experience on a unit before beginning to travel.
Get your nursing license and certifications ready.
Many states are part of the Nursing Licensure Compact (NLC), which allows nurses to practice in 37 states using one nursing license. If your license is not in a compact-member state, or you're looking to travel outside of these 37 states, you'll want to research and apply for any additional state licenses. Additionally, you'll want to make sure all your necessary certifications are up to date. Common certifications needed include BLS (Basic Life Support) and ACLS (Advanced Cardiac Life Support), among others depending on your specialty.
Build your resume and cover letter.
Create a strong resume and cover letter that highlight your clinical experience, skills and education. Make sure to include any certifications or special training you've received. Your resume should also demonstrate your willingness to travel and ability to adapt to new environments. If you need help drafting a cover letter or resume, you can ask a colleague to borrow theirs as a starting point to give you ideas.
Develop relationships and references.
You'll want to build relationships with preceptors, fellow nurses and other staff that you work with. It's important as a travel nurse to have strong references when applying for positions. You can write a template for a letter of recommendation for yourself that highlights skills you want to showcase, so that your references have a starting point and then they can more easily personalize it to include areas of strength that they see in you.
Apply for travel nursing jobs.
The Aequor Talent Portal allows you to import your resume and certifications into your profile, browse for open positions, set new job alerts and start earning referral bonuses. Once you're ready to apply, an Aequor recruiter will support you in finding your perfect assignment. For your first travel job, it's important to keep an open mind and remain flexible on location, which can bring many more opportunities your way.
Prepare yourself for interviews.
As a travel nurse, interviews for your many assignments will become a routine part of your career. You'll want to convey your excitement about the position and your confidence in your nursing skills. Check out our article, Interview Tips for Traveling Healthcare Providers for some helpful advice on how to prepare for interviews.
Starting your life as a traveler is an exciting time. You're in for a nursing career filled with adventure. For more advice about preparing for your first travel nursing assignment, check out our post, 10 Tips for First-Time Travelers. And be sure to download the Aequor Talent Portal app to get connected with a recruiter from the Aequor Family.
Share
Get the Latest Updates
You'll be the first to know when there's something new.