Apr 13, 2023
5 Must-Travel Spring Destinations for Healthcare Travelers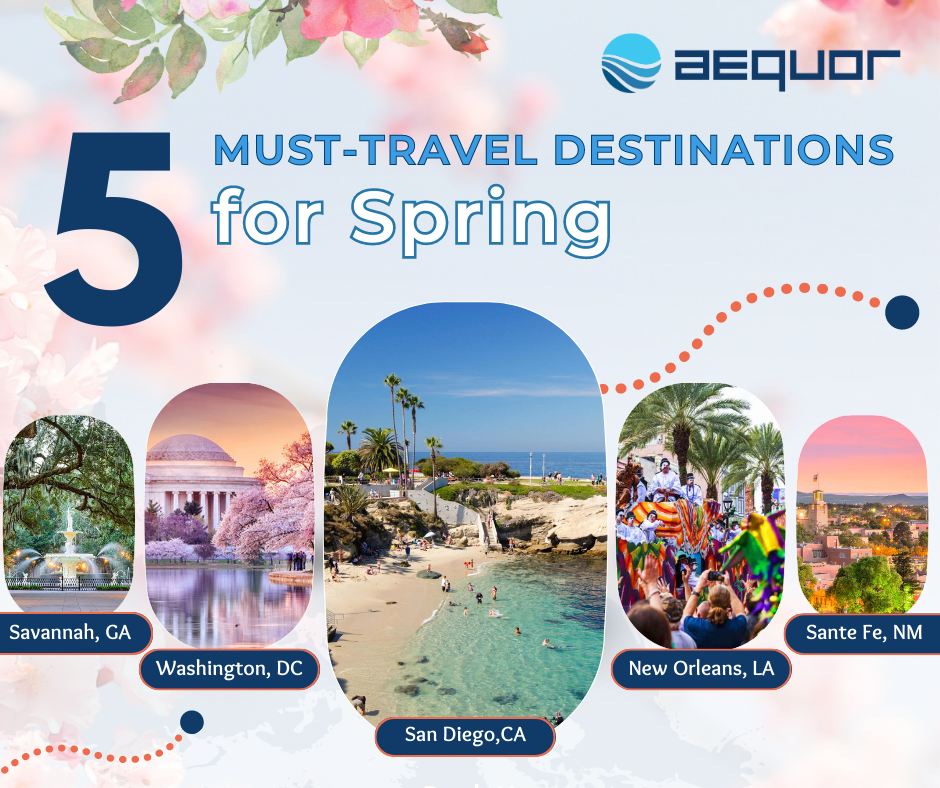 Spring. What a wonderful time to travel! The scenery is changing, and everyone is getting outside. From beaches to cities to historic towns, there are so many places you can explore on your next travel healthcare assignment. Whether you're shopping locations for your next travel assignment or picking out places to stop on your road trip or planning a weekend trip when you're not on call, here are five must-travel spring destinations for healthcare travelers.
New Orleans, Louisiana
New Orleans is an ideal spot to visit in the spring. Its mild climate, vibrant culture and iconic restaurants are just some of the things that attract so many visitors. For instance, many people travel to Louisiana just to experience New Orleans' French Quarter, especially during Mardi Gras. While it's known as the home to the National WWII Museum and a spring Jazz Fest, many travelers enjoy dancing to New Orleans' distinctive music and restaurant hopping the city's hottest Creole eateries. Bottom line: New Orleans is a must for the healthcare traveler who loves a colorful party.
Washington, DC
The mild weather and the season's magnificent display in Washington DC during the springtime make it an ideal place to visit. The National Cherry Blossom Festival is held every spring for five weeks and celebrates the stunning beauty of the blooming cherry trees. This year, the dates are March 18 – April 16, 2023. Because of this festival, you can enjoy fewer crowds while exploring the historic sites around the Nation's capital, such as the Smithsonian Institution's 17 museums, galleries and zoo.
Santa Fe, New Mexico
The spring is a beautiful time to visit Santa Fe, New Mexico. If you love flowers and the outdoor lifestyle, you'll love seeing what Santa Fe has to offer its visitors. Long walks in the city, you're almost sure to see the historic adobe buildings accented by an abundance of wildflowers. Don't miss the year-round Santa Fe Farmers' Market, which is one of the country's oldest, largest and most successful growers' markets. With so many things to do in Santa Fe, you can definitely use a day off in your schedule, enjoy nature or even take a hot air balloon ride over the desert landscape!
San Diego, California
When everywhere else is cold, southern California is enjoying spring temperatures in the upper 60s! San Diego's laid-back vibe and warm weather make it an ideal destination for travel healthcare workers who want to escape the cold and spend some free time relaxing. The city has so many outdoor activities to offer travelers! You can explore the city's many beaches, sidewalk cafés, visit the world-famous San Diego Zoo, or take a day trip to Coronado Island. You cannot go wrong stopping into San Diego for a trip or an assignment. The city welcomes you!
Savannah, Georgia
Savannah is a charming historic city whose beautiful gardens come alive during the springtime. If and when you are looking for a slower pace of living during your days off, Savannah, is the location for you to visit. You can lay back on its beach, take a walk downtown along the cobblestone streets, visit the many museums and historic sites, or take a boat ride along the Savannah River. Savannah has something for everyone. Ready to travel? Put away your winter boots, pack your bags and get ready for a spring adventure!
If you'd like to travel to one of these locations or beyond, get connected with a recruiter from our Aequor Family today! Visit the Aequor Talent Portal to browse our travel nursing jobs, assignments for allied travelers, locum tenens opportunities and contracts in the life sciences or technology.
Share
Get the Latest Updates
You'll be the first to know when there's something new.