Oct 16, 2023
Three Growing Allied Healthcare Specialties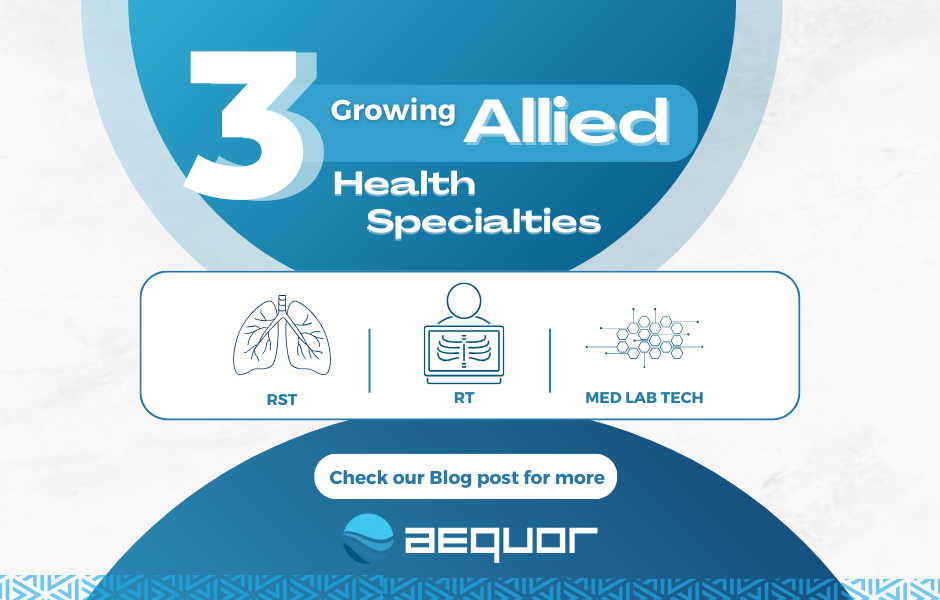 The field of healthcare is continually evolving, with new advancements to meet the diverse needs of patients. Allied healthcare professionals and traveling therapists, play a vital role in supporting doctors and nurses, and they are in high demand. Here are three allied healthcare specialties that are experiencing significant growth and provide promising career opportunities.
Respiratory Therapists
Respiratory therapists are healthcare professionals who specialize in the assessment, treatment, and care of patients who have trouble breathing due to various conditions. They can work with patients spanning all age ranges from neonatal to geriatric. This field is categorized as growing much faster than average according to the US Bureau of Labor Statistics (BLS), and is growing due to several key factors:

●       Increasing Respiratory Conditions: Factors such as pollution, smoking, and respiratory infections contribute to the rising prevalence of respiratory diseases. As a result, there is a growing demand for respiratory therapists to provide critical care and rehabilitation.
●       Technological Advancements: Respiratory therapy has evolved with the introduction of advanced equipment and therapies. These therapists are now utilizing cutting-edge devices and techniques to improve patient outcomes.
●       Diverse Work Settings: Respiratory therapists can work in a variety of healthcare settings, including hospitals, home healthcare, and long-term care facilities, offering flexibility and significant career options.
Search Aequor's current openings for Respiratory Therapists.
Medical Laboratory Technologists
Medical laboratory technologists, also known as clinical laboratory technologists, play a vital role in healthcare by performing a variety of laboratory tests and procedures to assist in the diagnosis, treatment, and prevention of diseases. The US Bureau of Labor Statistics categorizes medical laboratory technologists as a profession growing faster than average with about 24,000 jobs projected each year. A few factors that contribute to this profession's growth:
●       Increasing Demand for Healthcare Services: As the global population continues to age and the prevalence of chronic diseases rises, there is a growing demand for diagnostic services. Medical laboratory technologists are crucial for providing accurate and timely test results to aid in disease diagnosis and monitoring.
●       Advancements in Medical Technology: Technological advancements in the field of medical laboratory testing have increased the complexity and range of tests that can be conducted. This has led to a need for skilled professionals who can operate and maintain these advanced instruments.
●       Early Disease Detection and Prevention: There is an increasing emphasis placed on early disease detection and prevention. Laboratory technologists play a key role in performing these critical tests to help doctors identify diseases earlier for patients.
Search Aequor's open Medical Technologist jobs.
Radiologic Technologists
Radiologic technologists, often referred to as radiography techs, are responsible for performing diagnostic imaging procedures such as X-rays, CT scans, and MRIs. Radiologic technologists are currently categorized as growing faster than average according to the United States BLS, with over 15,000 job openings projected each year. This profession is experiencing significant growth for several reasons:
●       Aging Population: As the population continues to age, there is an increased demand for diagnostic imaging services to detect and manage age-related health conditions like osteoporosis, arthritis, and cancer.
●       Technological Advancements: Advances in medical imaging technology have created new opportunities for radiologic technologists. The ability to produce more detailed and accurate images has become crucial for diagnosis and treatment planning.
●       Specialization: Radiology techs can specialize in areas such as computed tomography (CT), magnetic resonance imaging (MRI), or interventional radiography, providing them with more career options.
Search Aequor's current Radiology Technologist positions.
Allied healthcare specialties, traveling therapists, and allied health workers are integral to the functioning of the healthcare system, and they continue to evolve to meet the needs of a changing world. Respiratory therapists, laboratory technologists, and radiology technologists are just a few examples of growing travel allied healthcare professions that offer promising career opportunities.
Aequor is here for you as you decide to start or continue your traveling allied healthcare or travel therapy journey. Our experienced and dedicated recruiters are ready to assist you in finding your perfect job opportunity! Visit the Aequor Talent Portal to browse our open positions and connect with one of our allied recruiters today.
Share
Get the Latest Updates
You'll be the first to know when there's something new.