Nov 16, 2023
The Personal Touch of Aequor's Travel Nurse Recruiters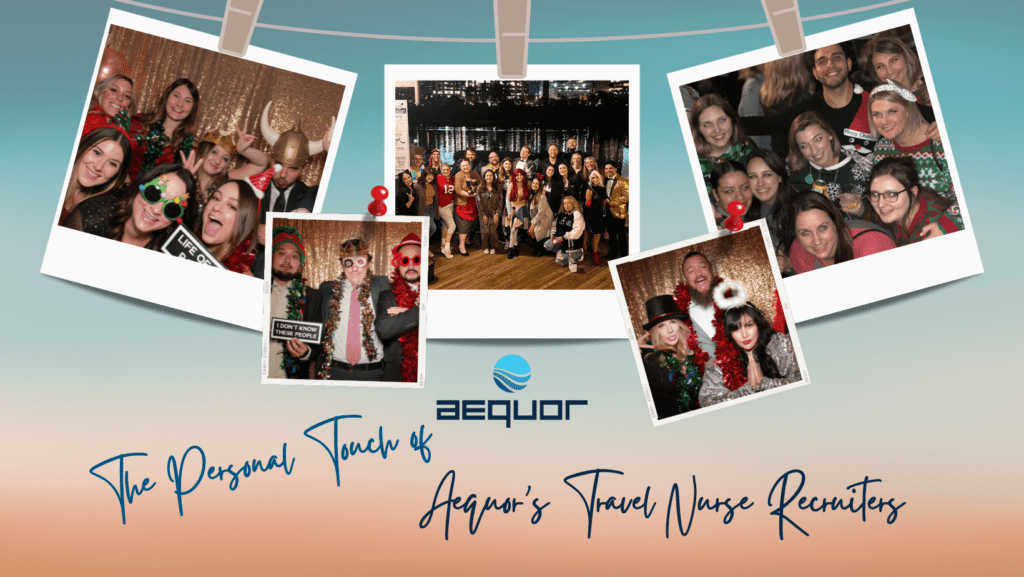 We at Aequor pride ourselves on knowing that our family of recruiters is top notch! All of our nurse recruiters make it a priority to form lasting relationships with each and every one of their nurses by adding the Aequor personal touch. Here are a few examples of our outstanding nurse recruiters who always have their nurses' backs during all stages of finding and completing their assignments.
Travel Nurse Recruiter Raleigh
Raleigh has been a recruiter with Aequor for almost seven years. He loves being an Aequor recruiter because his team strives to make every RN feel like a part of the Aequor family. They are dedicated to working hard as a team to help every nurse from start to finish on each assignment. Raleigh adds his personal touch by making sure he's available daily through call or text to help nurses with any problems that may arise. We know that Raleigh's nurses appreciate his priority of fast and open communication.
Travel Nurse Recruiter Amanda
Amanda has been a travel nurse recruiter for over 15 years and says that her favorite part of her job is connecting with travelers. Amanda enjoys being a part of the Aequor family because with the large number of open nursing jobs that Aequor has available, there is a great chance that she'll find a top choice for her nurses. She has found that helping nurses find the contracts they're looking for makes her job extremely fulfilling. Amanda has found that Aequor's technology makes it easy to keep an open line of communication with her nurses, which she finds key to building trusting relationships.
One of many examples of Amanda going above and beyond using her personal touch in recruiting is recently when she was able to help a nurse find a contract in a location where she hadn't considered working. When the nurse's top job choice couldn't accommodate her start date, Amanda got to work asking key questions about what she wanted out of traveling. Ultimately after some additional job searches, Amanda presented her nurse with what ended up being the perfect job for her! Aequor is proud to have dedicated recruiters like Amanda!
Travel Nurse Recruiter Trent
Trent is a valued member of the travel nurse recruiting team at Aequor. Trent says that recruiting for Aequor allows him to be himself while also keeping in mind the best interests of his candidates. He says that Aequor is nurse-centric and he brings that energy to all nurses he works with. Trent brings his personal touch to recruiting by building great rapport with candidates. Together, he and his candidates have been able to navigate this market and still secure the positions they are most interested in. Trent believes that building rapport is not always talking about job opportunities either. He has been known to check in on nurses to see how they are doing or how their vacation or birthday went. Trent lets candidates know he will be supportive of whatever is going to be the best decision for them, even if they choose a different company, but he'll always be ready to assist them when they choose to come back to Aequor. For more advice from Trent, check out our article Advice From A Travel Nurse Recruiter.
If you're a travel nurse looking for your next assignment, rest assured the Aequor team of nurse recruiters has your back! Our family of recruiters is ready and waiting to serve you with Aequor's personal touch. To get connected with a recruiter like Raleigh, Amanda or Trent, visit the Aequor Talent Portal today!
Share
Get the Latest Updates
You'll be the first to know when there's something new.