Nov 06, 2023
Seth Weaver, MD, MBA: A Passion for Medicine and Business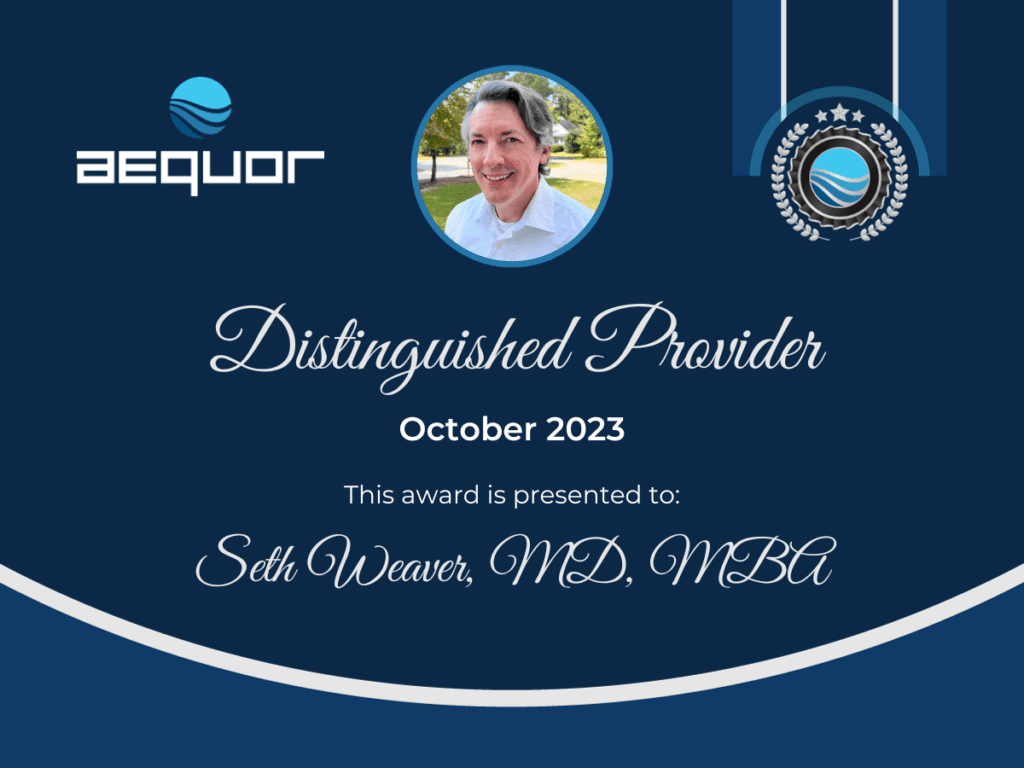 Dr. Seth Weaver is a board-certified internal medicine physician who has been working as a locum tenens hospitalist for six years. He is also a graduate of the MD/MBA dual-degree program at East Carolina University, which combines medical training and business education in a five-year curriculum. Aequor Locums is proud to count Dr. Weaver among our Distinguished Providers, a recognition that honors the outstanding performance and dedication of locum tenens physicians and advanced practice providers.
His career as a locum tenens provider happened "kind of by accident." Because he wanted to explore other health systems and learn from diverse clinical experiences but not uproot his family, Dr. Weaver left a staff position to become a locum tenens hospitalist in facilities close to his home. He has stuck with it for six years now because he enjoys the autonomy and flexibility of locums work, which has also enabled him to put his MBA to good use as a contractor running his own business.
He believes that his dual degree in medicine and business has given him a broader perspective and a deeper understanding of the healthcare industry, as well as the ability to form his own company to be a successful a locum tenens contractor. Locums is not for everyone though, according to Dr. Weaver, who says that "you have to think like a business, accept the risks that come along with that, and be your own leader." He says that working locums can be great for providers who are semi-retired or empty nesters because of the flexibility of scheduling and the ability to help out other facilities that may be short-staffed.
As a locums contractor rather than a hospital staffer, Dr. Weaver doesn't have to deal with administrative politics and other distractions, and therefore his focus is entirely upon providing the best patient care. He is grateful for the support and service that Aequor Locums provides to him and other locum tenens providers, especially the personalized and seamless process of finding and securing assignments that match his skills, availability, and goals. He also praises the quality and responsiveness of the Aequor Locums team, who handles all the details of licensure, insurance and scheduling for him. He says that working with Aequor has made his locum tenens experience enjoyable and rewarding.
Dr. Weaver is an example of a physician who has successfully combined his passion for medicine and business in his career. He is also a testament to the advantages and opportunities that locum tenens work offers to physicians who seek more freedom and control over their own careers. Aequor Locums is proud to have Dr. Weaver as part of our family and we look forward to continuing this journey with him as one of our most distinguished locum tenens providers.
Share
Get the Latest Updates
You'll be the first to know when there's something new.