Mar 14, 2023
Rising Stars: The Aequor Ambassador Team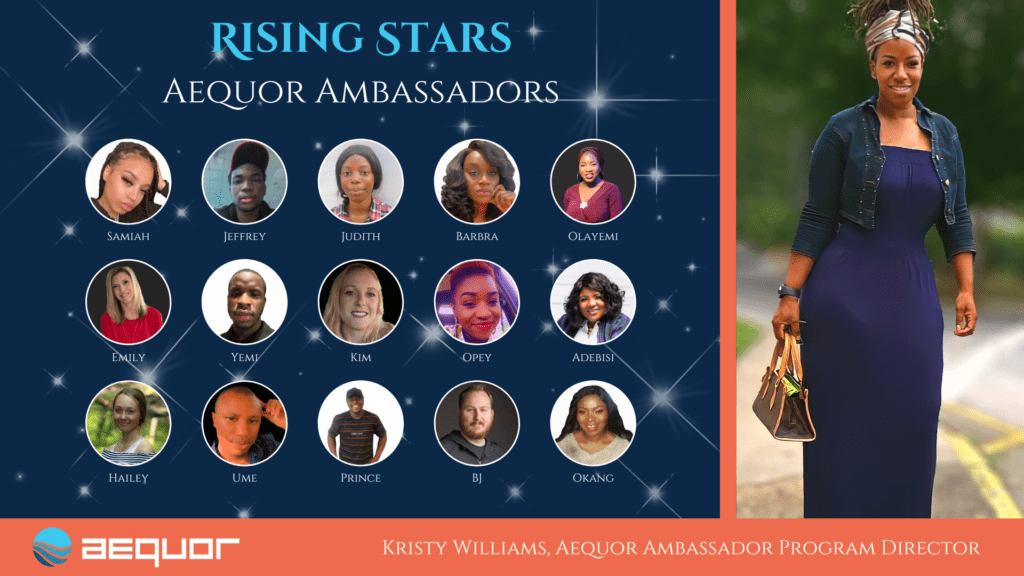 Aequor always strives to make the job search process easier for travelers. We know that travel healthcare workers' main focus should be on the high quality of patient care they provide. Aequor is proud of our unique Ambassador Program that not only benefits travel candidates but also Aequor's dedicated recruitment team.
The Aequor Ambassador Program was created by Aequor CMO BJ Dodenbier, to promote Aequor jobs with a personal touch. BJ wanted a way to promote Aequor's jobs on social media using human interaction as opposed to technology. He values that the ambassador team is made up of social media marketers with diverse backgrounds. Each ambassador is free to promote jobs on different social media platforms that best fit their skill set. Ambassadors connect travel candidates who are interested in these jobs with recruiters to help make the application process easier.
Kristy Williams oversees the Aequor Ambassador Program. Prior to working for Aequor, Kristy worked as a Regional Brand Marketing Manager in Retail Marketing. She built brand recognition for top brands that we all use today and managed teams of brand ambassadors in the southeastern states. Kristy likes to describe herself as a "Cross Functional Professional" because she strives to use her variety of skills, work experience, and talents to be an asset to the Ambassador Team.
With a background in Social Work, Marketing, and Case Management, Kristy has succeeded with building a team of Rising Stars. When asked, "What makes your team different and dynamic?" Kristy responded,
I love building teams. I love culture. When you mix the two together, you get me hiring people from different walks of life, different professions, and different skill sets to work as one team, with one goal. My team is diverse, we work hard, we work long hours, EVERYONE has a voice, and that's what matters most!
Aequor Ambassadors are rewarded for different levels of excellence with the program's payment structure. In addition to this, ambassadors have the opportunity to start building teams of their own. The ambassadors appreciate the freedom to work on their own schedules from any location.
Ambassador Samiah loves working with an international team that feels like family and helps each other reach their potential. Team Lead Okang enjoys the connections she makes while working and that ambassadors are rewarded for the time that they put in. Ambassador team member Emily is grateful that she can expand her professional skill set and work while caring for her children.
Aequor's Ambassador Program has positively impacted the Aequor Family across the board. Last year, Aequor was named one of the top 20 staffing agencies to work for. If you're interested in learning more about joining the ambassador team, click here: Become an Aequor Ambassador! To browse open travel positions, visit the Aequor Talent Portal.
Share
Get the Latest Updates
You'll be the first to know when there's something new.