Sep 12, 2023
Kathia Desronvil, NP: Distinguished Locums Provider Is Living Her Best Life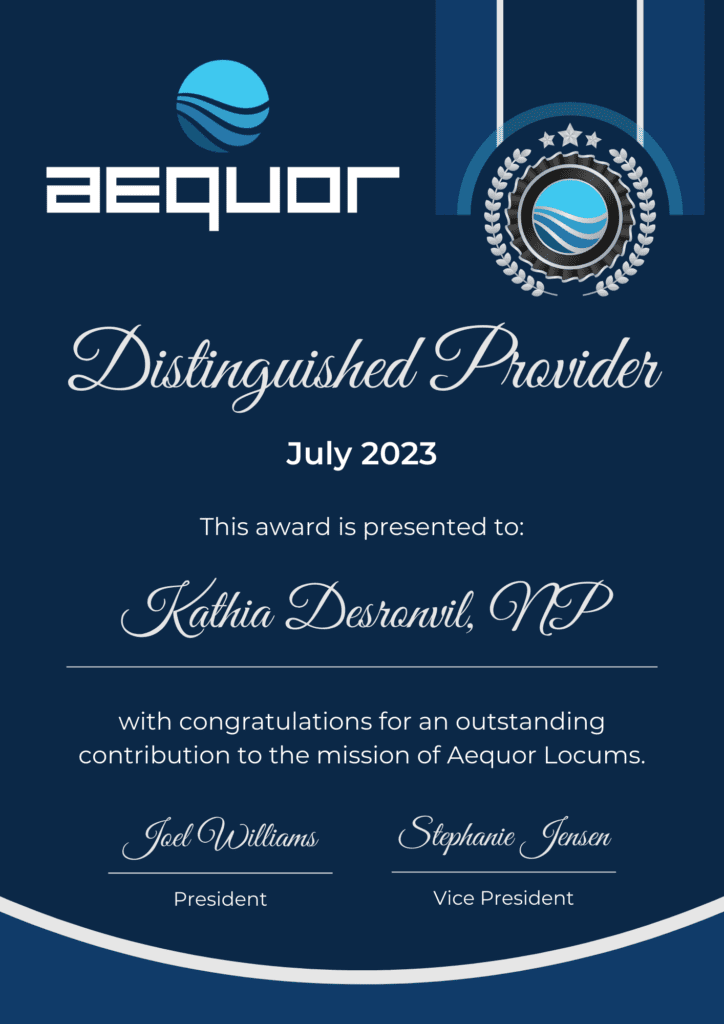 Kathia Desronvil is living her best life as an Aequor Locums nurse practitioner, which is part of her plan for "semi-retirement at an age that's reasonable." Locum tenens work is one way in which she is defining her life to have more independence, as evidenced by her statement: "I work to support my lifestyle, not the opposite." This independence allows her to pursue both of her passions—giving back and traveling—as she makes frequent journeys to her home country, Haiti, on dedicated medical mission trips.
Having emigrated to the US from Haiti when she was 9 years old, it's important for her to give back to her community, so these mission trips are very close to her heart. Kathia says, "It's a way for me to stay connected and know that I've done something with this career that's more than just me working in a hospital… When I go back home [to Haiti], I'm able to take those skillsets and that knowledge and really apply it in a setting where there's no technology… and then I get to speak Creole and really connect."
Her most meaningful mission trip was just after the 2010 Haitian earthquake when she ran a disaster relief team for two weeks and directed her own ward with her own patients. Although this was an amazing and humbling experience, some of the most rewarding volunteer work came when Kathia began working with Family Health Ministries (FHM) in 2013. This organization has been established in Haiti for over 30 years educating, employing and training locals to help build up and strengthen their communities. "What they're doing is really admirable," says Kathia.
We think what Kathia is doing is also really admirable. Intentionally taking control of her life, her health, her finances and her career, she's committed to actually implementing a work-life balance. The independence and flexibility of working locums means that Kathia creates her own schedule, so she can spend more time with her 87-year-old mother who has dementia, and she can take a month off to travel if she wants, which is one way she deals with the stress of a career in medicine.
Because Kathia is a driven, detailed-oriented person and invests herself in building relationships, a career as a locum tenens provider suits her well. Her advice to others who are considering or just starting out as a locums provider is to let go of any fears about a loss of security from leaving a staff job. As an independent contractor/business owner, Kathia is in charge of her own retirement and chooses where she invests. The tax savings from filing as a business helps her keep more of her paycheck, as well as purchase the health insurance plan that's right for her.
Aequor Locums has enjoyed our long-term partnership with nurse practitioner Kathia Desronvil since 2016. Commenting on these past seven years with us she says, "This company has been really good to me." Thank you, Kathia! You've been really good to us as well, and we're grateful you're part of the Aequor Family.
If the independence, flexibility and higher income of a locums career sound good to you, we'd love to help you get started. Check out our current locum tenens opportunities, click apply and a recruiter will get in touch with you.
Share
Get the Latest Updates
You'll be the first to know when there's something new.