Apr 03, 2023
Dr. Uchechukwu Egbujo: Elevating His Game as a Locum Tenens Hospitalist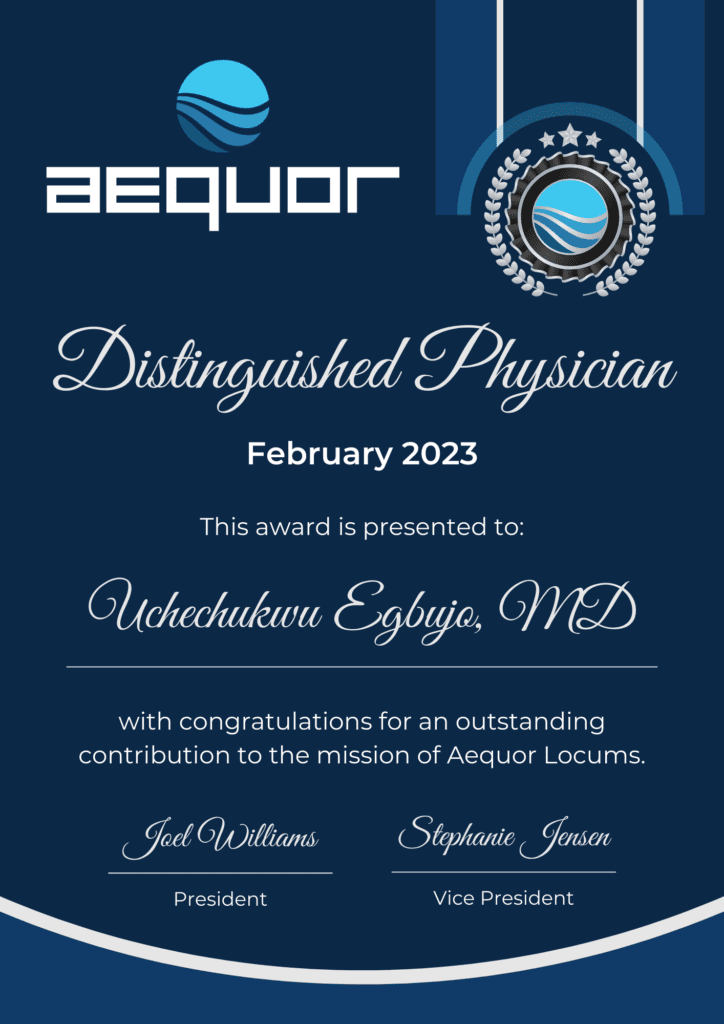 Dr. Uchechukwu Egbujo is a humble hospitalist on assignment for Aequor Locums at several of our client facilities in Connecticut. To recognize him as the Distinguished Physician for February 2023 is our honor. Not only is he a hard worker, taking more than 25 shifts each month, but he loves working critical care during the night shift when there is a high level of activity and little to no help. When the pressure is on, Dr. Egbujo elevates his game!
Because of this passion for learning and not being afraid to take on new challenges, Dr. Egbujo has expanded his skillset as a locum tenens. On the night shift when the anesthesia team may not be available fast enough, he can be relied upon for intubation, central lines and other life-saving procedures he has learned under pressure. He believes that "doing something you're afraid of may be very important in saving somebody's life."
This is one reason Dr. Egbujo recommends locums to doctors who have just finished their residency. Locums assignments can offer many opportunities to gain broad experience and expand one's skillset. He says being well-rounded as a hospitalist is vitally necessary, "so patients don't have to suffer under your care."
Not only is Dr. Egbujo dedicated to providing the best care to patients while putting a smile on their faces, but he's also dedicated to giving back and supporting communities. An example from 2019, during his residency at Norwalk Hospital-Yale University, is his visit with second-year medical students to inspire them to seek opportunities for experience in the United States. Above is a picture from Facebook by Aefunai College of Medicine in Nigeria (Dr. Egbujo is in the middle).
In his spare time, Dr. Egbujo enjoys watching soccer, especially the Champions League and Premier League. He used to play quite a bit himself but slowed down to avoid injuries. He also loves playing chess and other board games online—another way he works to elevate his game.
Having worked with other locums agencies, Dr. Egbujo started with Aequor Locums in June 2022 and plans to continue our relationship indefinitely because of our outstanding advocacy and support. He says that our credentialing team made the process so easy and the responsiveness of his recruiter is almost immediate. "That means a lot. It gives you confidence that the company you're working for really has your back and has your interest at heart." Aww… we're blushing.
Aequor Locums sends our gratitude to Dr. Egbujo for going above and beyond as our February 2023 Distinguished Physician.
Share
Get the Latest Updates
You'll be the first to know when there's something new.