Dec 13, 2022
Dr. Muhammad Ghani: Going Above & Beyond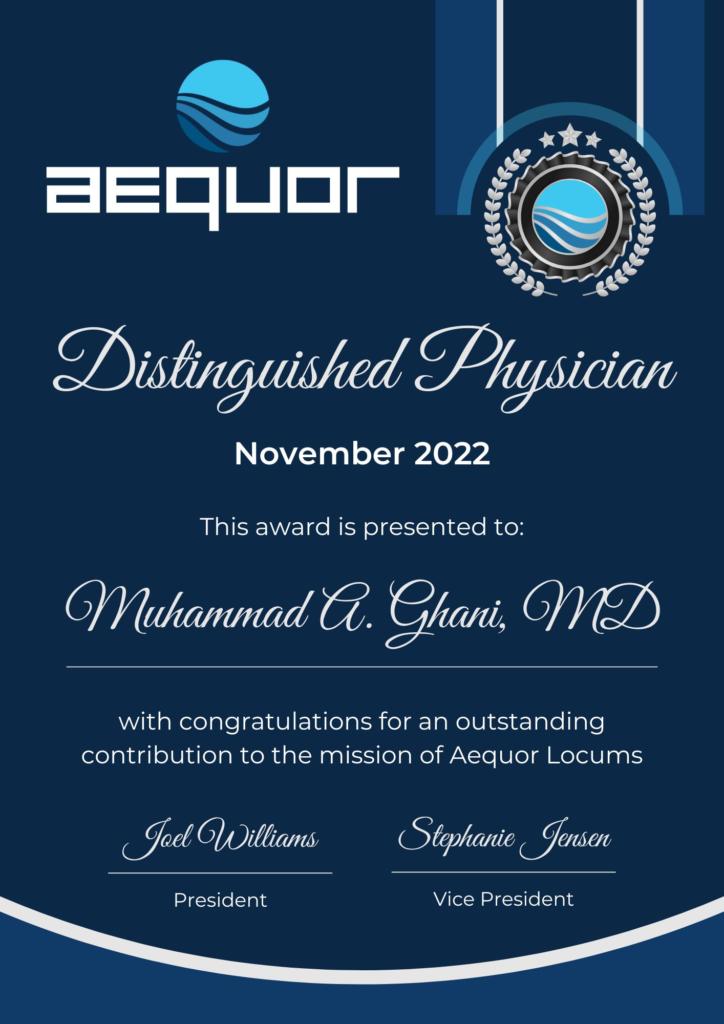 Aequor Locums is proud of our Distinguished Physician, Dr. Muhammad A. Ghani, who went above and beyond the call of duty in November 2022 by covering shifts at the last minute during the Thanksgiving holiday. We appreciate his willingness to step up and provide the care that patients at Nash UNC Health Care needed.
Dr. Ghani received his medical degree from Nishtar Medical College in 2001, completed his residency in internal medicine at University of Tennessee Health Science Center in Memphis, and has been in practice for more than 20 years. He is licensed in both North Carolina and Washington State, so he has the ability to work locums on both coasts.
Some of the benefits of working locum tenens assignments that Dr. Ghani enjoys are opportunities to make new friends at various facilities, the freedom to make his own schedule, and of course, the excellent pay. He thrives when collaborating with other providers, and loves learning and contributing to the success of the team. But he says the best thing about his job is helping people and saving lives.
After working locums for 10 years, some advice that Dr. Ghani has for providers who might be considering locum tenens opportunities is to be flexible, work well with others, be part of the team, and don't be afraid to bring previous experience into creating solutions.
We can't thank Dr. Ghani enough for being an exemplary provider for Aequor Locums! We hope this recognition as one of our Distinguished Physicians helps express our gratitude to him.
Share
Get the Latest Updates
You'll be the first to know when there's something new.