Jun 29, 2023
Aequor Makes SIA's Largest List Again!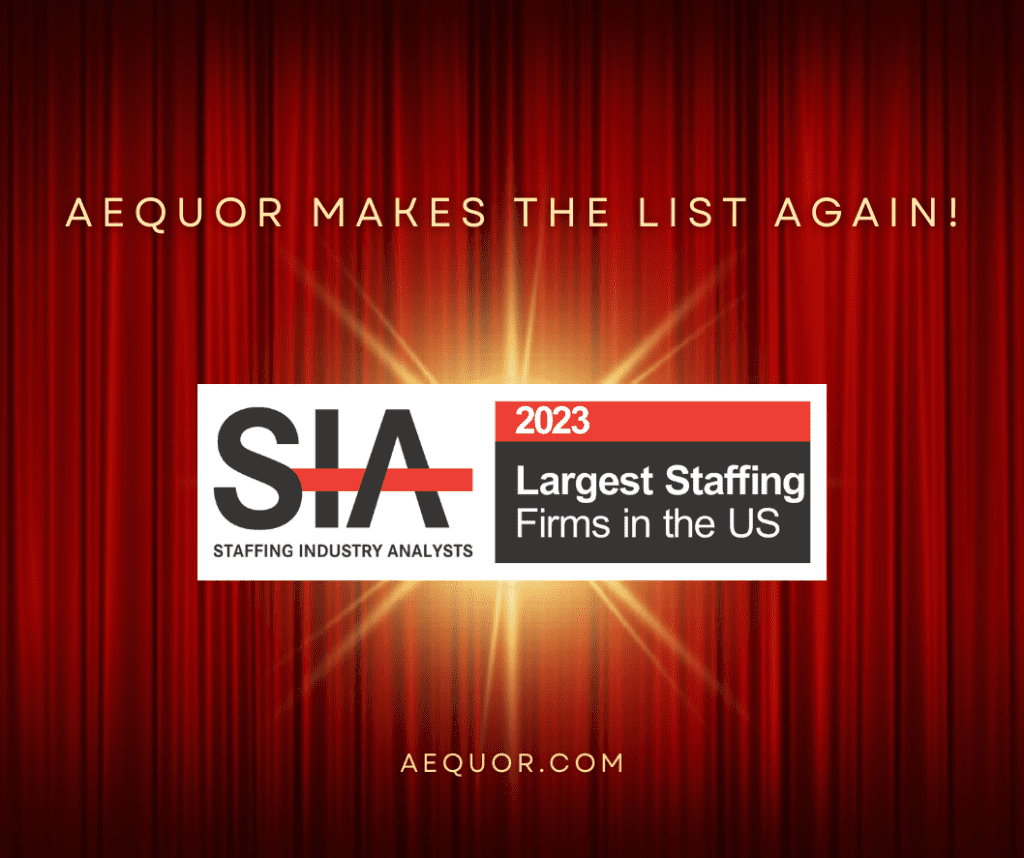 Aequor announced earlier this month its recognition by Staffing Industry Analysts (SIA) as one of the largest staffing companies in the United States for the second consecutive year. The company ranked at number 132 on the list, up from 147 last year.
SIA's annual ranking, a highly anticipated report in the staffing industry, showcases the most prominent companies that have generated at least $100 million in staffing revenue for the previous year. A total of 251 companies made the list, generating $168.8 billion in US staffing revenue during 2022. Aequor's share was $258 million in revenue, indicating 62% growth over the previous year's $159 million.
Further, Aequor ranked number 49 on SIA's list of Largest Healthcare Staffing Firms in the US. Amongst the Largest Travel Nurse Staffing Firms in the US, Aequor was listed in 45th place, and for the first time, Aequor made it on the list of the Largest Per Diem Nurse Staffing Firms, holding the number 24 spot. In the allied healthcare staffing segment of SIA's report, Aequor ranked 35th.
Being named on SIA's Largest Staffing Firms in the United States list two years in a row emphasizes Aequor's continued growth and leadership in the staffing industry. This achievement is evidence of the company's ability to adapt to ever-changing market dynamics, provide innovative solutions, and attract and retain top talent. Aequor's exceptional team, combined with its cutting-edge technology and comprehensive suite of workforce offerings, positions the company at the forefront of the staffing industry.
"We are incredibly proud to be recognized as one of the largest staffing companies in the U.S. for the second time in a row," said Kamal Virdi, Co-CEO of Aequor. "This achievement is a testament to the hard work and dedication of our entire team. We remain committed to delivering exceptional value to our clients and contractors, building long-term partnerships, and providing innovative staffing solutions that meet the evolving needs of businesses across various industries."
As a leading provider of temporary and permanent staffing services, Aequor prides itself on its ability to deliver customized staffing solutions across multiple industries, including healthcare, education, the life sciences, information technology, and more. The company's vast network of skilled professionals and extensive industry knowledge enable Aequor to match the right talent with the right opportunities, driving success for both clients and candidates.
Aequor's success is further driven by its commitment to excellence, continuous investment in technology, and its deep understanding of the market landscape. "By leveraging its robust network, industry expertise, and cutting-edge technology platforms, Aequor offers tailored workforce solutions that help clients optimize their talent acquisition strategies, reduce costs, and gain a competitive edge in the marketplace," said Manmeet Virdi, Co-CEO of Aequor.
With this latest recognition from SIA as one of the largest staffing companies in the US, Aequor is poised to further expand its reach and continue its mission of delivering exceptional contingent staffing services that drive business growth.
Share
Get the Latest Updates
You'll be the first to know when there's something new.