Oct 03, 2023
Aequor Healthcare Services Ranks Among SIA's Fastest-Growing US Staffing Firms in 2023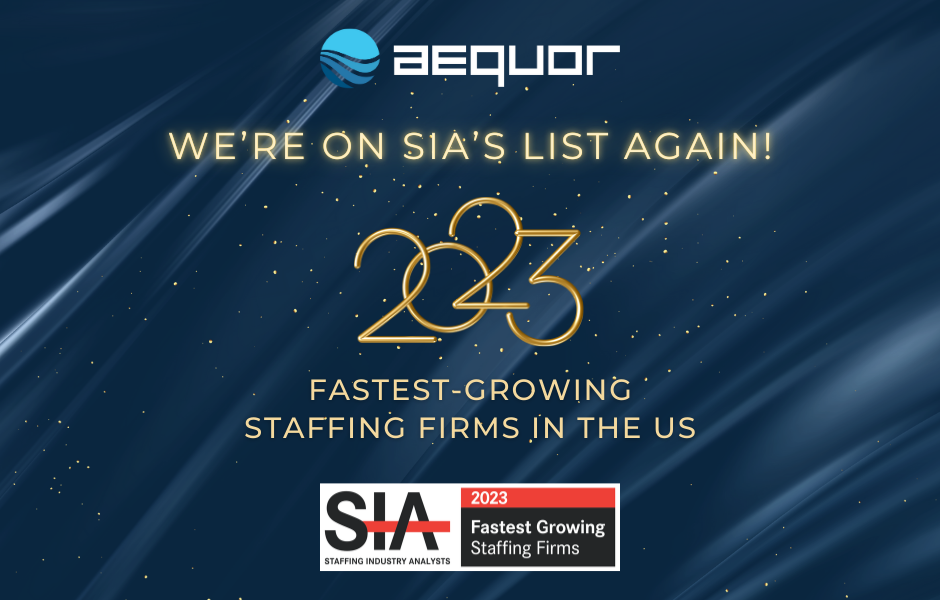 Aequor Healthcare Services, a leading provider of healthcare personnel and solutions, is proud to announce that it has been ranked among the fastest-growing staffing firms in the US by Staffing Industry Analysts (SIA), the global advisor on staffing and workforce solutions. Aequor Healthcare Services' 2022 revenue was $258 million, and the company achieved a compound annual growth rate (CAGR) of 39.6% from 2018 to 2022, placing it among the elite group of 162 firms that qualified for the 2023 list.
"We are honored and thrilled to be recognized by SIA as one of the fastest-growing staffing firms in the US," said Manmeet Virdi, Co-CEO of Aequor Healthcare Services. "This achievement reflects our commitment to excellence, innovation, and customer satisfaction in the healthcare staffing industry."
Aequor Healthcare Services specializes in healthcare and clinical staffing, providing physicians, therapists, nurses, technologists, and allied healthcare professionals to hospital systems, nursing homes/home care providers, clinics, school systems, laboratories, and pharmaceutical organizations nationwide.
Kamal Virdi, Co-CEO of Aequor Healthcare Services, said, "We are grateful to our dedicated team of recruiters, account managers, and support staff who work tirelessly to deliver quality service to our clients and candidates. We are also thankful to our loyal customers and partners who trust us with their staffing needs and help us grow our business."
The 2023 Fastest-Growing US Staffing Firms list was announced by SIA on September 19, 2023. The list ranks firms by their CAGR for US staffing revenue from 2018-2022, excluding acquisitions. To qualify for the list, companies must have had at least $1 million in revenue in 2018 and at least 15% CAGR from 2018-2022. The median CAGR for all firms on the list was 33.8%.
"The staffing industry has weathered a pandemic and is now managing a completely different landscape that continues to shift, with this year providing a more challenging business environment than last year," said SIA President Barry Asin. "Through all this fast-paced change, the 2023 Fastest-Growing Staffing Firms in the US have not slowed down their business development and growth. Congratulations to this year's qualifying firms for their resilience and persistence in the ever-evolving world of work."
For more information about the 2023 Fastest-Growing US Staffing Firms list, please visit SIA's website. For more information about Aequor Healthcare Services, please visit www.aequor.com.
Share
Get the Latest Updates
You'll be the first to know when there's something new.