Mar 07, 2023
Advice for Physicians and APPs from a Locum Tenens Recruiter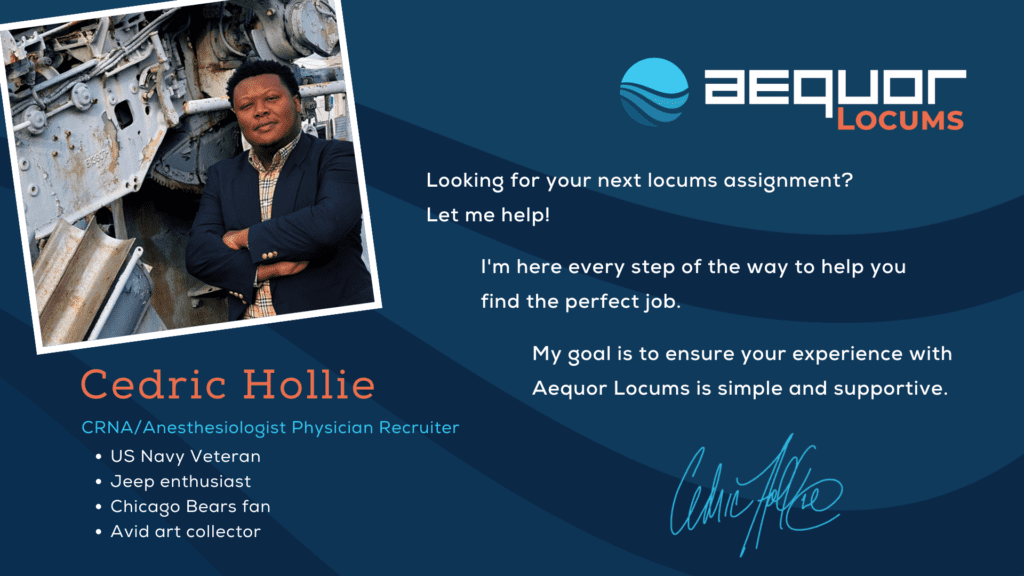 Aequor's Locum Tenens recruitment team is dedicated to helping providers find their ideal assignments. Here, we're sharing some advice for physicians and APPs from a locum tenens recruiter. Cedric Hollie is one of the valued members of our locums team that is committed to building a productive relationship with you by getting to know you and your goals. And we want you to get to know us, too!
Not only is Cedric a Jeep enthusiast, but he's an avid art collector and a Chicago Bears fan. With over 20 years of experience in the medical field—some in the Navy during Operation Enduring Freedom—his professional background includes administration, clinical medicine, patient education and provider recruitment.
From the perspective of an Aequor Locums recruiter, Cedric offers some great advice for physicians and APPs thinking about working locum tenens positions.
Be flexible with locations. The right candidate has the opportunity to travel while earning rates that are higher than industry standards, so you may want to widen your geographical range when looking for your next assignment. Don't be afraid to take a great opportunity in an area that may be unfamiliar to you—traveling as a locum tenens is an adventure! Plus, it's a great opportunity to explore different places before deciding to take a permanent position.
Be open minded. Every assignment has the potential to be a great one. You may take a position that you were unsure about and end up loving it! That's why it's so important to start your assignment with a positive attitude. Remain open to how each facility operates and be a positive influence on your patients and other staff members. Remember that you're also growing your network.
Build a partnership with your recruiter. When working with Aequor Locums recruiters, we always have your best interests at heart. Our team of recruiters is available to guide you in your job search and throughout your assignment. Let your recruiter know during your job search what is important to you in an assignment. If any questions arise while on the job, you should feel comfortable going to your recruiter for answers. If you aren't comfortable with your recruiter, ask for a different one! This relationship is key to success with any locums opportunity.
We're grateful for this advice, Cedric. We want what's best for providers, so we hope this was helpful information for traveling locum tenens. Aequor prides itself on the professionalism and approachability of our dedicated recruiters like Cedric. If you're ready to find your next locums position and connect with a recruiter, you can apply to any of our jobs, email us at locums@aequor.com or call us at (877) 563-0535.
Share
Get the Latest Updates
You'll be the first to know when there's something new.